RHD HOME MARKET TR8 NWK988W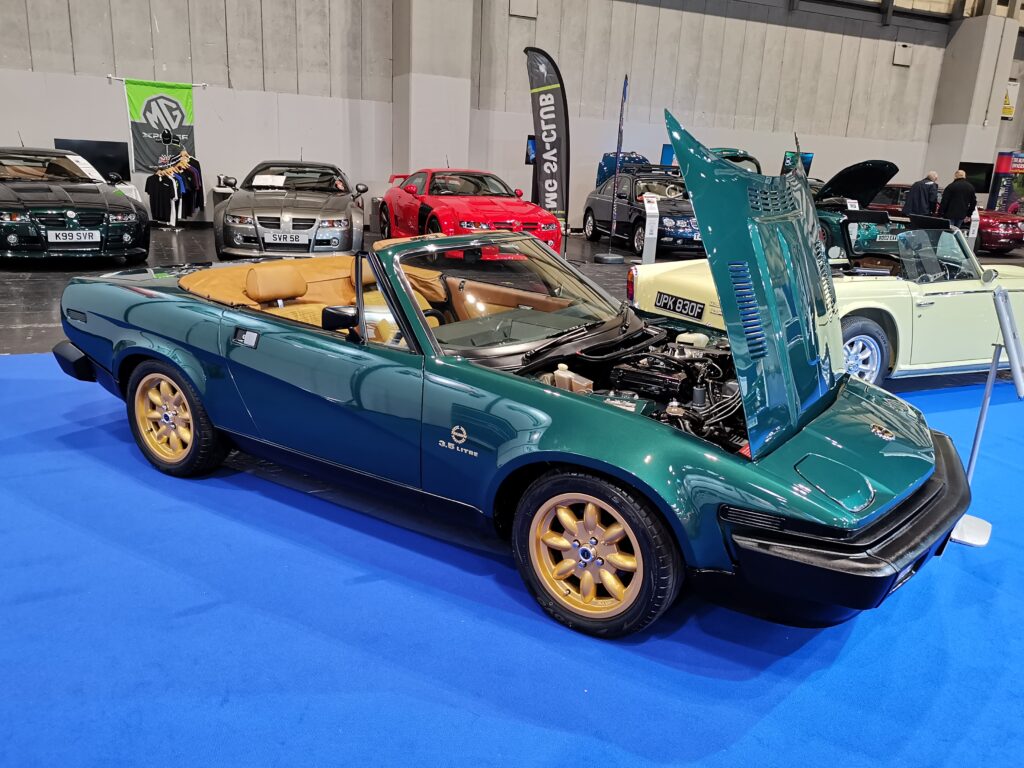 I've known about this RHD TR8 NWK988W for about 25/30 years or so after an ex-manager at Canley/Solihull (Garry Owen) responsible for the RHD TR8 project gave me a collection of some memos and other documentation on the car for my TR8 website. Once I learned of its unique history at BL Motorsport/Special tunning Abingdon, it quickly became the TR8 I always wanted to find. March 2022 I was incredibly fortunate and lucky enough, to finally be able to buy this very unique TR8. While it is rare enough in being 1 of only 22 RHD TR8's the factory ever built, it is also rarer still in being 1 of 1 in that it is the only one modified and tuned by BL Motorsport/Special Tuning at Abingdon. In particular by two of Tony Ponds 1980 rally team, Cliff Humphreys for the engine modifications and Richard Hurdwell for the suspension. It is the most powerful and best handling road going TR8 the factory ever made. Sadly the one, and only one, ever made to this specification; but it was a great note to end on though as production ended October 5th 1981.
More information on the 22 RHD TR8's is HERE
Make Triumph
Model TR8
Engine 3528cc, V8
Power 217bhp @ 5000rpm
(rolling road test March 2023 – work is ongoing to restore the cars power to when it left the factory, estimate is 230bhp)
(STD RHD TR8 153bhp @ 5250rpm – minus 63bhp)
(STD Carb LHD TR8 133bhp @ 5000rpm – minus 84bhp)
Torque 231lb ft @ 4500rpm
(STD RHD TR8 197lb ft @ 2500rpm – minus 34lb ft)
(STD Carb LHD TR8 168lb ft @ 3000rpm – minus 63lb ft)
Top speed 150mph
(STD RHD TR8 130mph – minus 20mph)
0-60mph 5.6 seconds
(STD LHD/RHD TR8 8.1/8.6 secs – minus 2.5/3.0 secs)
Consumption 18/20mpg
Gearbox Five-speed manual
Dave Bogg rolling road 30th March 2023 when the car produced 217bhp.
Heritage proof of genuine factory RHD TR8

BL MOTORSPORT MEMO

Dated Dec 16th 1980 detailing some of the many changes made to the car; the majority if not all of these changes are still on the car plus a few more.
CC: MR G OWEN
SOLIHULL
Fi: MR J DAVENPORT, MR D WOOD
TR8 MODIFICATIONS
PURPOSE
A green TR8 NWK988W from Solihull has been subject to both engine and suspension modifications at BL Motorsport Abingdon. The purpose of this was to present alternative engine and chassis specifications for the future UK and European Sports Car Market.
ENGINE MODIFICATIONS
All following modifications were carried out on a standard TR8 V8 unit as fitted in test vehicle.
Compression ratio initially raised to 9.35:1 by fitting current SD1 V8 pistons.(More recent engine information/testing says it now runs 9:75:1 pistons due to the performance it puts out – 217bhp – and further evidence from the time stating all of the factory 20 x car WL9 cam conversions – of which this car was one – used 9:75:1 pistons so the car had a second engine rebuild at the time of the WL9 cam fitting – the needle at the time of testing wasn't rich enough and the advance curve has problems so estimate for when the factor had the car would be around 230bhp)
Standard camshaft replaced by 'WL9' Motorsport camshaft and valve spring assemblies.
3. Zenith-Stromberg carburettor fitted with alternative fuel control needle to suit 'WL9' camshaft.
The engine will be tested on the rolling road in Jan when it returns to Abingdon with more running-in completed.
CHASSIS M0DIFICATIONS
The following modifications have been carried out so far and are felt to have improved the car. Final 'tuning' of our proposed specification will be made in Jan 1981 after initial comments from Solihull test mileage.
FRONT BRAKES
A Ventilated Brake Disc Kit was fitted using Ferodo DS11 pads this has improved the standard braking significantly and is virtually fade-free from repeated high-speed stops. The kit was developed by Brian Owen at Abingdon in conjunction with John Moore at Automotive Products (Racing) Leamington.
Automotive Products would be able to supply in quantity.
These brakes will only fit the car with Alloy wheels.
FRONT SPOILER
A works rally TR7 V8 spoiler was fitted, with small modifications to fit under the bumper. This is a GRP moulding made for us by Albert Coates in John Cooper's 'Plastics Development' area at Solihull.
The spoiler has proved very robust, but for extra durability a flexible polyurethane moulding was planned for the (now scrapped) 1981 rally TR8.
Wind tunnel testing at MIRA during rally car development indicated that this spoiler should reduce front lift by between 10 and 30%. This assists straight line and cross wind stability which was found to be a problem. Engine cooling should also be improved.
(On the under rear side the red gel colouring for the works TR7V8 rally cars can still be seen indicating it originally came from the works stock)
FRONT SPRINGS
These were as set up for the 1979 Donnington Rally sprint cars i.e.TKC 3088 (blue) springs lowered 25 mm by heating one coil. Actual spring specification will be established by removal and measurement in Jan. A properly made and heat-treated pair will be made for final presentation. A further 10 mm reduction of trim height is envisaged for this final presentation.
FRONT DAMPER INSERTS
The standard car seems to suffer from under damping especially on rebound. This causes a large amount of pitch over bumps even on 'smooth' motorways and causes large variation of tyre/ ground contact force.
Dampers with approximately 25% more bump and 50% more rebound £force were considered but since we had already units with 25 and 100% extra these have been fitted at present. Armstrong are willing to make a set of trial units to our specification.
FRONT SUSPENSION
The standard car suffers badly from nosedive under braking which is uncomfortable, reduces braking stability and causes large variations in headlight range. To reduce this an extra packing piece UKC 9883 is fitted between roll bar clamp ~ sub frame. The standard bolt is long enough to allow this. UKC 9883 does not appear in our parts lists but seems to be fitted on the cars. The proposed extra reduction in trim height will further reduce brake dive.
The standard car also suffers badly from compliance in the track control arm/roll bar joint. To reduce TCA movement and caster change under braking, a hard polypropylene bush is used behind the TCA. This is similar to the standard part UKC 208 but with approximately 70 shore hardness. This modification also greatly assists straight-line stability as there is considerable fore/aft motion of the wheel over bumps.
Rally experience shows that a completely revised joint giving far less compliance would provide very significant improvements in handling and braking. It is not anticipated that this would give a large increase in road noise transmitted to the body since there is already rubber in the roll bar and TCA transmission paths to the sub frame, which itself is rubber mounted to the body.
STEERING
No changes have been made in this area but bump steer checks will be carried out before final presentation. My personal impression of the steering is that it gives a very good balance between steering effort and feel which suits the car well. Steering ratio is good for road use.
Congratulations to whoever developed this.
REAR SPRINGS
The first set of springs tried were TKC 2404 lowered by approximately 25 mm. These worked well but have settled further and given problems of bottoming on the bump stops.
The springs originally fitted were then lowered by 25 mm, and subsequently by a further 12 mm. These seem to have a higher rate than the first set but the MG closure has temporarily left us without testing facilities.
As with the Front Springs a properly made and heat-treated pair of springs will be fitted for final evaluation.
REAR SHOCK ABSORBERS
The standard units seem to be about right on bump setting but, as the front, lack rebound capacity. Some adjustable units have been fitted to the rear and are set to give a good compromise between ride and handling.
The bump setting at the rear has a very great effect on ride comfort, the occupants being close to the rear axle and any large increase over standard bump makes the ride harsh.
Armstrong are willing to make a set of trial units, testing the adjustable units to arrive at the required setting.
REAR SUSPENSION
To reduce compliance (and hence steer and tramp) the 'windowed' lower link bush has been replaced by standard Dolomite and
TR7 Part 149827. The 4 upper link bushes have been replaced
by Motorsport tuning parts for Dolomite – Part No STR 0018.
These bushes are similar to the standard bush but with shore hardness increased from 45 to approx. 65-70.
Stiffening the bushes does not seem to give an unacceptable
increase in transmitted noise – especially in this soft top version.
The mounting in the body for the lower trailing link has been raised by 25 mm. This considerably reduces the rear end 'squat' which is very evident on acceleration in the standard car. Traction is considerably improved and the standard tendency for axle tramp is reduced.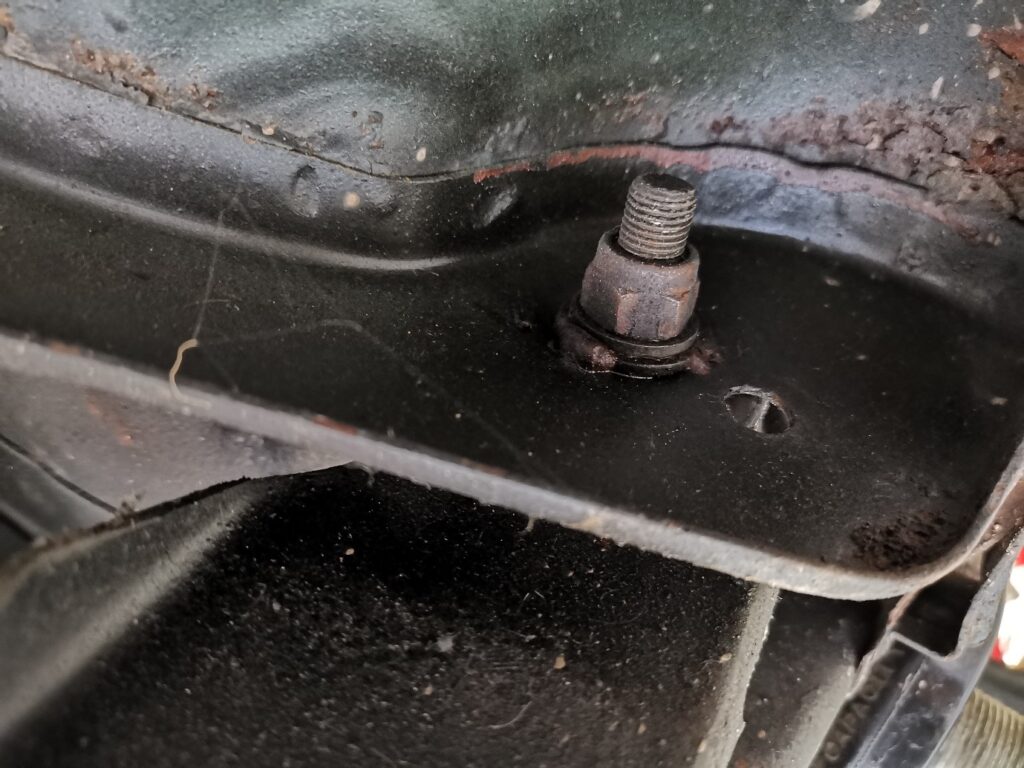 (The upper mounting was also moved 25mm and the rear anti roll bar was removed- but this was done later than this memo was written, most likely in early January 1981)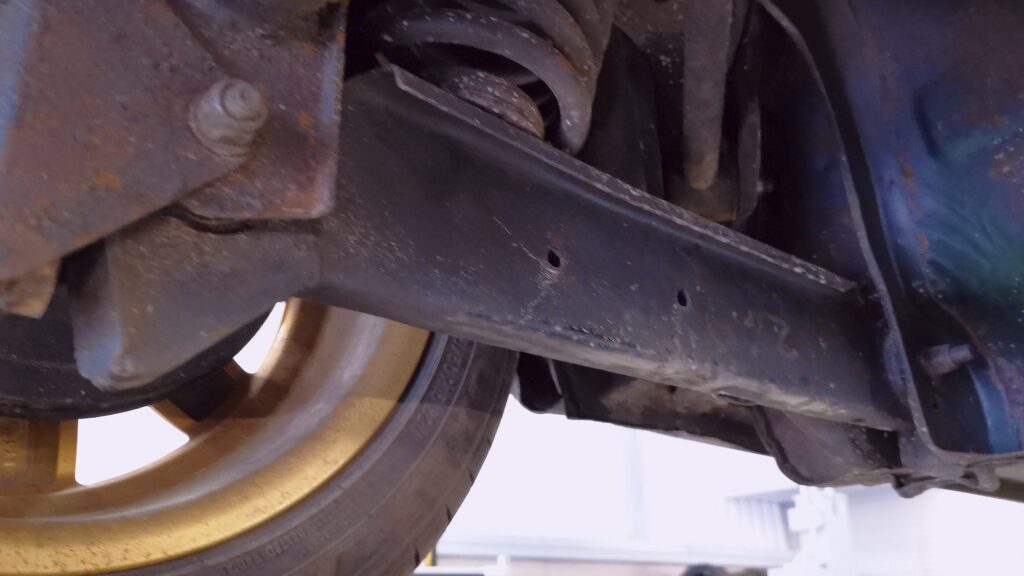 REAR BRAKES
Alternative brake lining material (VG 95) was fitted to reduce fade. This material is readily available from Ferodo.
TYRES
The car was fitted with 185-70/13 Goodyear tyres. These do not give particularly good grip, especially in the wet. From our experience with Michelin TRX tyres these can give improved ride as well as cornering power. The ride properties of the tyre would help to counterbalance any extra harshness from stiffer suspension. The extra handling performance will enhance the car's already high cornering power and make it safer.
John Re at Canley has or will have some fabricated wheels to try TRX tyres on a TR7 but they may not fit on the ventilated brake hubs. Michelin are to provide some suitable wheels and tyres in late Jan for test purposes.
Contact at Michelin – Dave Taylor (0782 48101 Ext 241).
Richard Hurdwell Engineering Liaison
RH/AM
To quote the late Rex Holford (TR8 Archivist)
"From the attached document (BL MOTORSPORT memo) You will see that RHD TR8 NWK988W has been modified, but in such a way that it would be the forerunner of the 1982 spec TR8s"
The Team at BL MOTORSPORT ABINGDON who worked on the car were
NWK988W engine was modified by Development Engineer Cliff Humphreys
From a standard 10E federal spec TR8 engine it was initially Increased to 9:35:1 compression. Later it had added the BL MOTORSPORT WL9 camshaft modified Stromberg's and further in line valve and spring modifications to increase performance. (More recent engine information/testing says that the car actually now runs 9:75:1 pistons due to the performance it puts out – 217bhp. Further evidence from the time stating all of the factory 20 x car WL9 cam conversions – of which this car was one – used 9:75:1 pistons further supports this)
NWK988W suspension was modified by Development Engineer Richard Hurdwell
Rally front spoiler, Front vented disks, rear brakes improved, lowered and strengthened suspension throughout.
Both engineers were part of Tony Ponds works rally team for 1980. This is the only road going TR8 ever worked on by the works team at Abingdon. Given the further development they made on the car (right up to not long before the car was sold at Measham auctions 7th August 1981 – because it was Richard Hurdwell's car at the time so unofficially it continued a bit) it's true to say this RHD TR8 is the most advanced for the future TR8 BL ever made.
Works Drivers
As it was Tony Pond's team building and modifying the car did Tony Pond ever drive it? Yes, but never in anger in a race/rally, just down to the shops or the pub as while it was being worked on at Abingdon, it was regarded as a pool car when required; so many such BL Motorsport personalities at Abingdon in 1980 would have driven it.
ROUND BRITAIN RALLY 1980
The car was used by the factory on the Round Britain Rally in 1980 along with a Silver TR8 MHP404V. At the time it was done there had been no decision to not
launch in the UK and it was still an active project. The tour was through the Triumph Club in London and it was setting off on a Friday night up to "John O'Groats" then "Lands' End" and back to London on the Sunday night. It was done with the intention of getting some publicity for the RHD TR8 yet to be launched in the UK, and for club members to see the cars.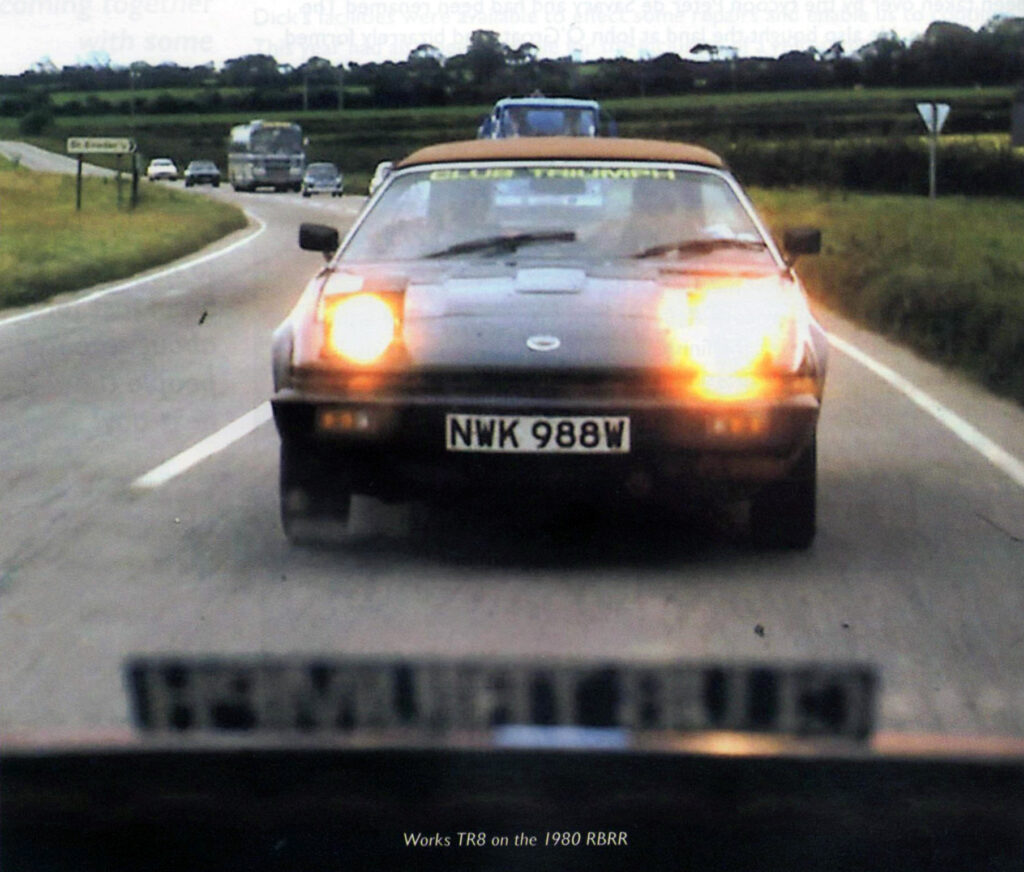 Practical Classics September 1997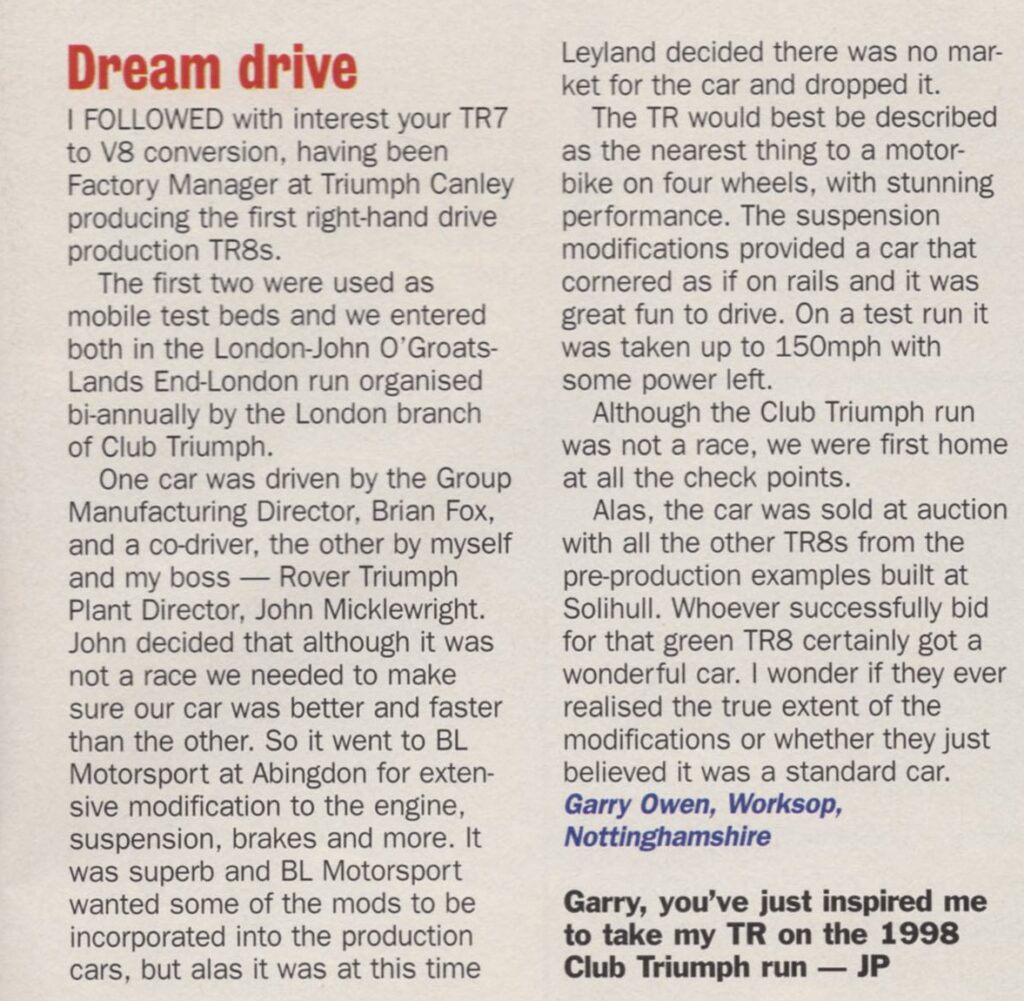 It turns out the first owner didn't know how special the car was, he thought the only things different were the brakes! First owners' information sheet for the car. He also has the number of RHD TR8's incorrect, as there are 22! But there were 14 unregistered RHD TR8's sold at Measham which is where that figure comes from. The other 8 were either already registered (3) as in NWK988W, MHP404V, RDU35W and in the auction, so total RHD TR8's in the auction was actually 17, or registered/unregistered (5) and sold privately by BL to preferred dealers.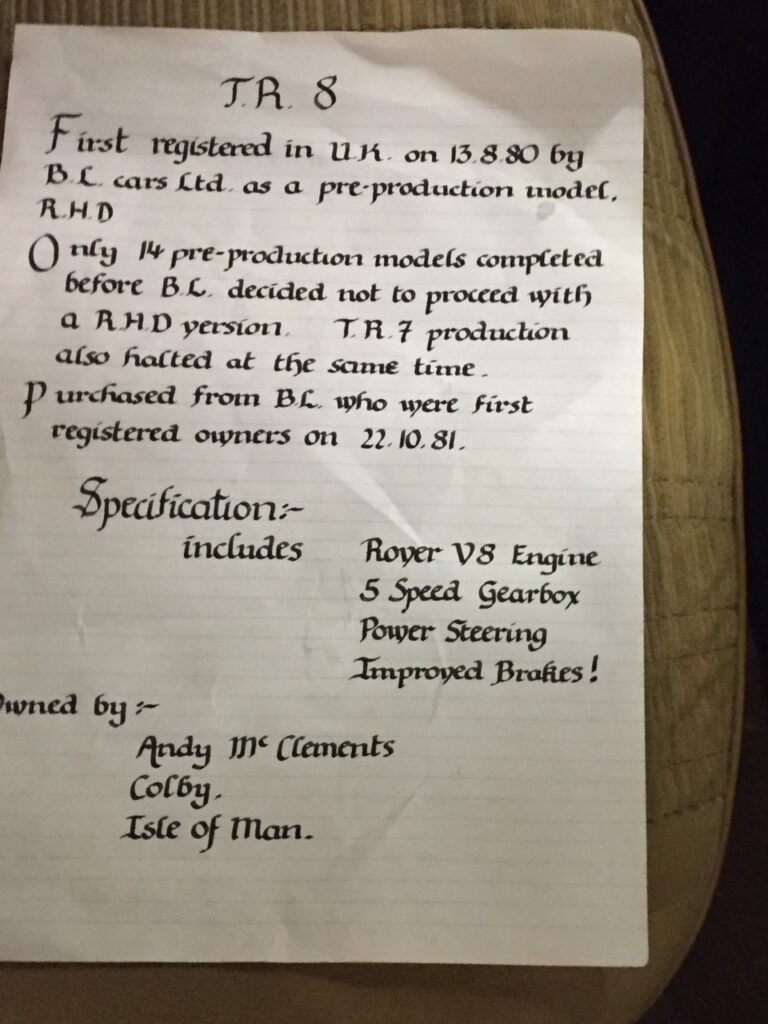 NWK 988W Owners and continued history
At the time I talked to the ex-manager no one was sure where it was and or went after it was sold at the Measham auctions in 1981. Richard Hurdwell told me he wanted to buy the car himself but it was sadly outside his budget at the time. NWK988W appears a short way into this video of Measham Auctions at about 0.26
It wasn't until about 10 years or so later, I found out NWK866W was on the IOM with Andy McClements (Owned for 38 years) of Colby an amateur Rally Driver, who also kept a collection of interesting sporting cars. He sadly died in 2015 and his family sent the car to the local garage to get it running again ready for sale.
There was a period of time where I understand the family wanted Andy's car collection to go as a job lot, however that wasn't to be. The family then approached Mervyn Johnston in Co Fermanagh N.I.to ask for help in selling the car. Mervyn too was a good Rally Driver (Mostly Mini Coopers) and frequently stayed with Andy during rallies on the IOM as they were close friends. In the end Mervyn bought the car himself 28/10/19 and took the car home to Northern Ireland (Owned for 1.3 years). Sadly, he was struck down by illness not long after getting the car so it wasn't driven for another year and a bit before being sold to William John Ferguson (Billy) (Owned for 1.1 years) 12/2/21 who had been told about the car. Billy being 86 found the car difficult to get in and out of so he put the car up for sale in his local auction.
Essentially a farmer's auction in a remote part of N.I. Fortunately for me as part of my interest in TR8's I run various programmes that search out TR8's for sale and this one came up in my auto feed. So, on 19/3/22 the car came into my possession and arrived in North Yorkshire on the 24th due to ferry problems preventing us getting it across sooner.
Because I've known its history and spoke to the ex-manager at Solihull at length many years ago, I already knew quite a lot about the car. A small part of that in the memo – above – (registration number I removed on the web site) I posted on the web site I had at the time, needless to say it was "borrowed" and has appeared in a lot of places since! Richard Hurdwell who worked on the car is fortunately still alive and I've been lucky enough to be able to talk to him at length about the car. Once the car is recommissioned properly, I arranged to meet up at Gaydon to let him drive the car again as it was sort of used as his company car at the time, to allow him to make running suspension improvements as he drove the car.
The car has been worked through from March to July 2022 replacing as needed as it has essentially been unloved with no to any maintenance for many years, less the wheels, which were powder coated by the last owner to such a thick level I had to use blocks of wood, large hammers, and driving the car with wheel nuts loose to break the wheels free. Its now running on a set of Gold minilites 15" with low profile tyres. The original wheels will be blasted and coated correctly and so they can if required, be put back on at a later date. Personally, I prefer GOLD with Green but that's me. Some early TR8 development cars were fitted with gold wheels. More work has continued on the car to the present day trying to undo previous owners "mistakes" to get the car running again as well as it did when the factory owned it. Still a few minor issues to resolve but it is pretty much there now just over a year after I got NWL988W.
Approximately 15K has been spent on the TR8 getting it back to running condition. Many parts have been reconditioned due to corrosion and new parts fitted where needed, full fluids change throughout the car etc etc.
Some of the parts changed replaced etc
Carbs rebuild with new parts. Needles were soldered/bodged replace with new rich running needles at best guess to what the originals would have been, as due to the solder it was impossible to tell what they were when BL Motorsport modified them. Eventually we found a rich enough needle for the car B24081 which is the richest needle still made by Stromberg. Complete rebuild and tune carbs accordingly. SU needle bodged to fit wouldn't allow the car go past 70-mph.
Repair auto choke
Re-paint inlet manifold original grey
All new gaskets for Carbs including remake one gasket no longer available.
Fuel cap replace with new vented, old gummed up and not working causing vacuum in tank and poor running.
Air filters replace (K&N)
Badly powder coated Alloy wheels replace (15" GOLD minilites)
Tyres replaced to low profile
Gearbox remote bushes all fallen out / DISINTIGRATED! replace all 8.
Air box's corroded refurbish
Exhaust hot air corroded refurbish
Exhaust system replaced with new stainless steel.
Heat hose and Cool hoses replace with new
Coolant header and bracket corroded refurnish
Coolant sensor replace
Thermostat for coolant replace
Rockers corroded refurbish
Water pipes replace with new
Pipe clips replace as required
Oil replaced with new
Coolant replaced with new
Spark Plugs replace (Iridium)
Coil replaced
HT Leads replace
Rotor arm replace
Gearbox replace broken selector frame on stick
Fit Steering bush DISINTIGRATED!
Adjust Distributor timing and advance curve
Fuel pump replace with external and add regulator as originals gummed up with old fuel.
Track rod end replace
Tracking adjusted
Power steering belt replace
Alternator belt replace
Starter motor replace
Clutch master cylinder replaced and use shorter fork
Clutch slave cylinder replaced
Clutch pipe replaced with braided one
Battery replaced with O72 Lucas
Wiper blades
Repair Gear gator and replace top rubber part
Replace incorrect screws in door locks and line up correctly
Replace screws in door releases
Replace damaged knee pad
Replace damaged heater knob
Fit missing TR8 Glove box badge
Heavy duty clean Interior
Heavy duty clean carpets
Repair minor hood damage
Repair seat belts
Ns door mirror
Repair and re-paint front works spoiler
Quarter lights rusty re-paint new seals
Doors new seals window
Source Buff NOS badges/decals
Handles new seals
Rear lights new seals
Weather protect underside – Lanoguard as its clear so mods can be seen.
Lights replace all with LED!
PART-RE-PAINT car as about five or six different shades of Green
An OUTER main panel "ONLY" green paint job to preserve its originality as much as possible has been done while trying to match the original paint look/finish as opposed to making the car look concours. Given while at a distance the paint looked great, close up it wasn't. It possibly had 5 or 6 different shades of GREEN on the car. The differences in paint can perhaps be best seen with the next picture in particular the passenger door shade of green against the wings.
On painting it was found to have a very large dent in the passenger door that had been badly filled and painted.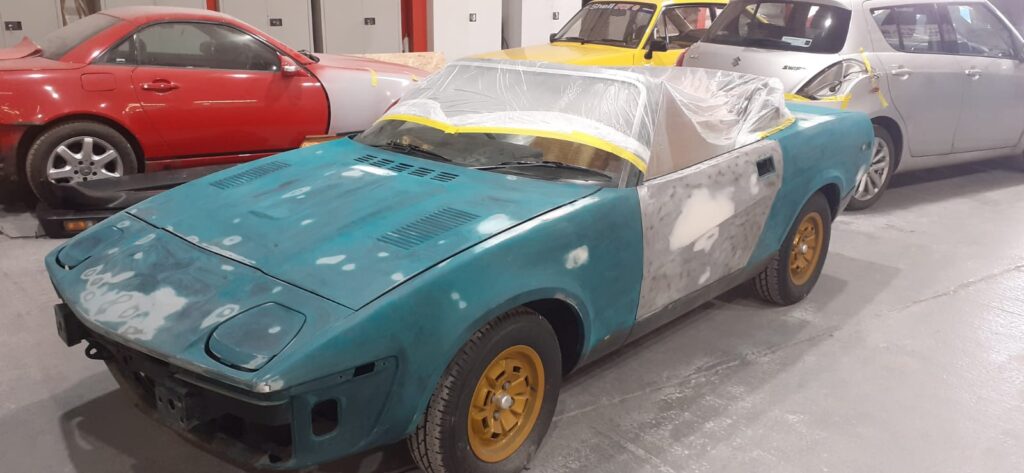 The boot was also found to have been damaged at some time as had one of the front wings and front panel.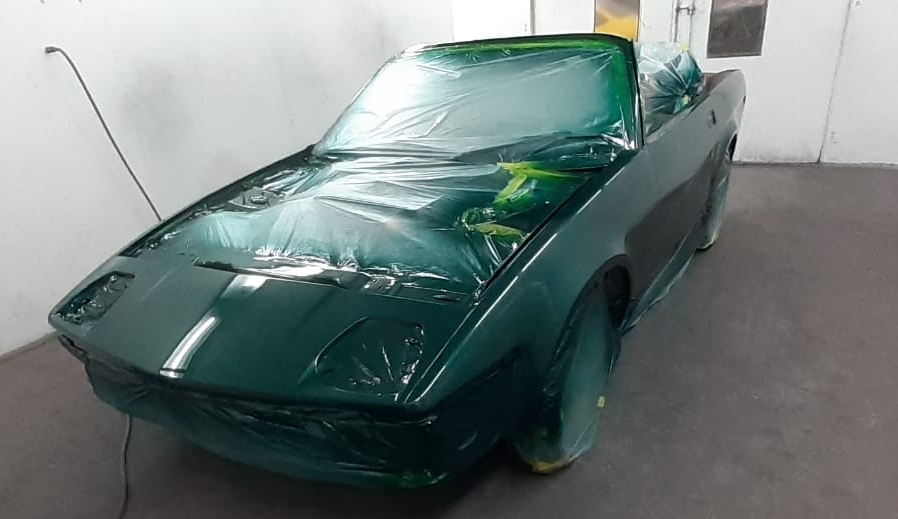 Back from the Paint shop and as NWK is currently with Minilite wheels in gold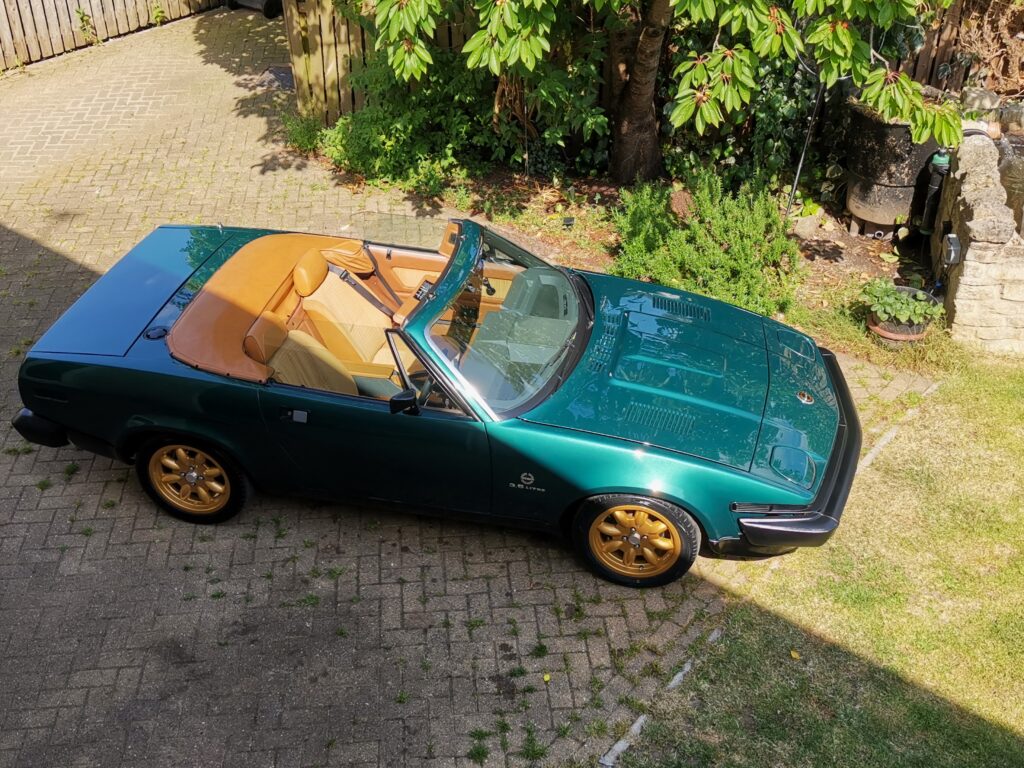 Fit a NEW/OLD STEREO – car still had the black cubby box with no stereo ever fitted. Retro system fitted – Looks 1980 period Pioneer facia but behind is a modern 50-watt amp and USB and Bluetooth system. Speakers and Tune-ups are period 80's NOS. The sub-woofer fitted under the passenger seat is a new Pioneer Sub as I couldn't track a NOS one down.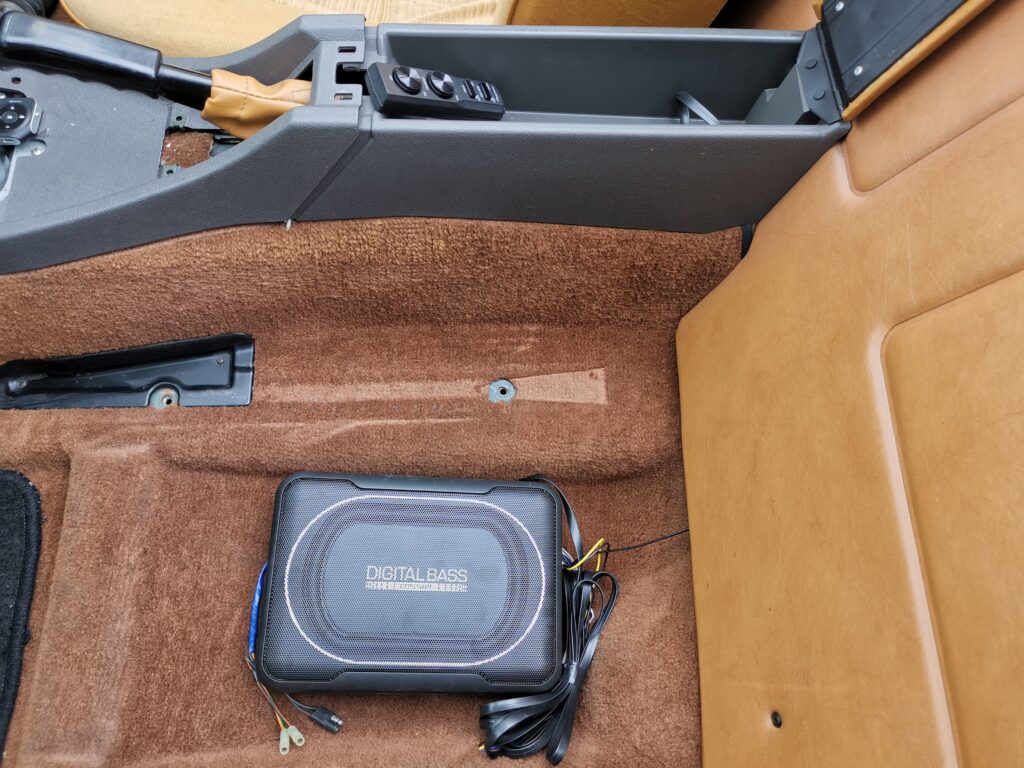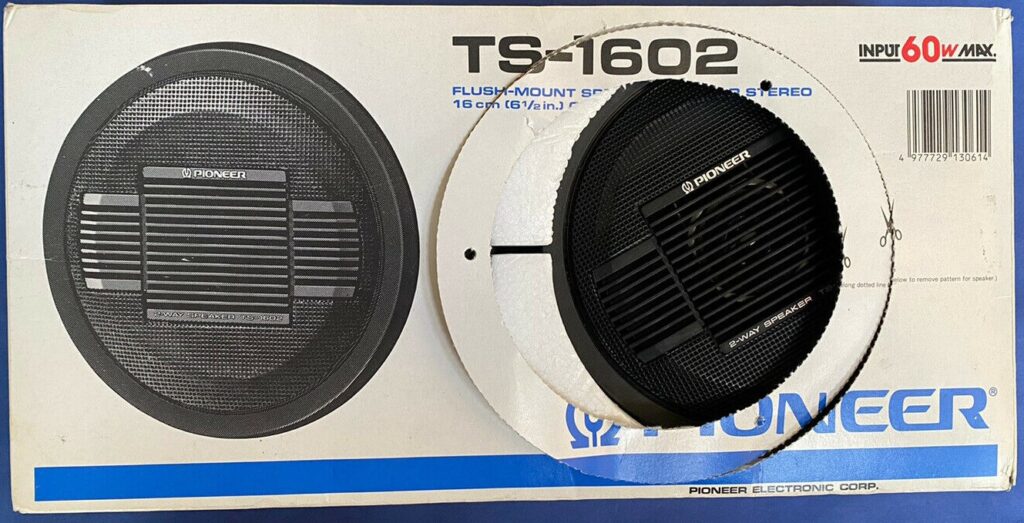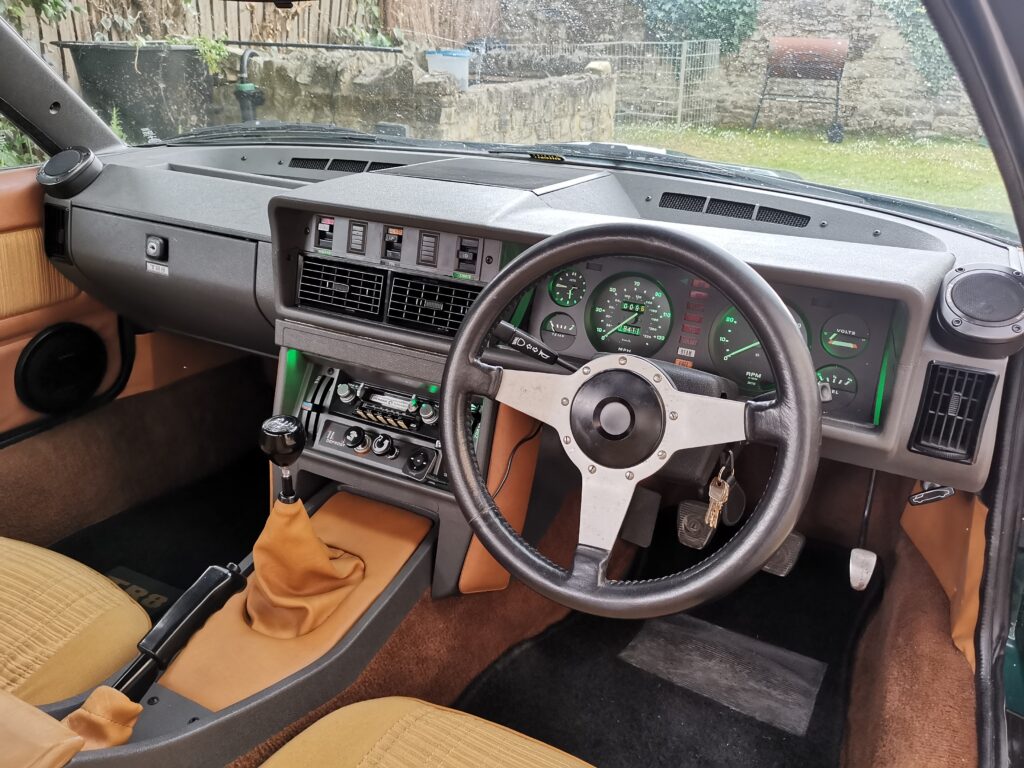 It was important to keep the car looking period so everything that can be seen is circa 1980. The modern stereo is hidden behind the Pioneer KP-5800 fascia
DIFFERENCES FOUND ON NWK
There are a number of differences on this car over other RHD TR8's, these are some of the main ones,
Works spoiler fitted for up to 30% lift reduction – The spoiler is still RED fibreglass behind so you can see it came from works stock originally, before being painted black to match the car style.
Battery tray cut away to allow easy access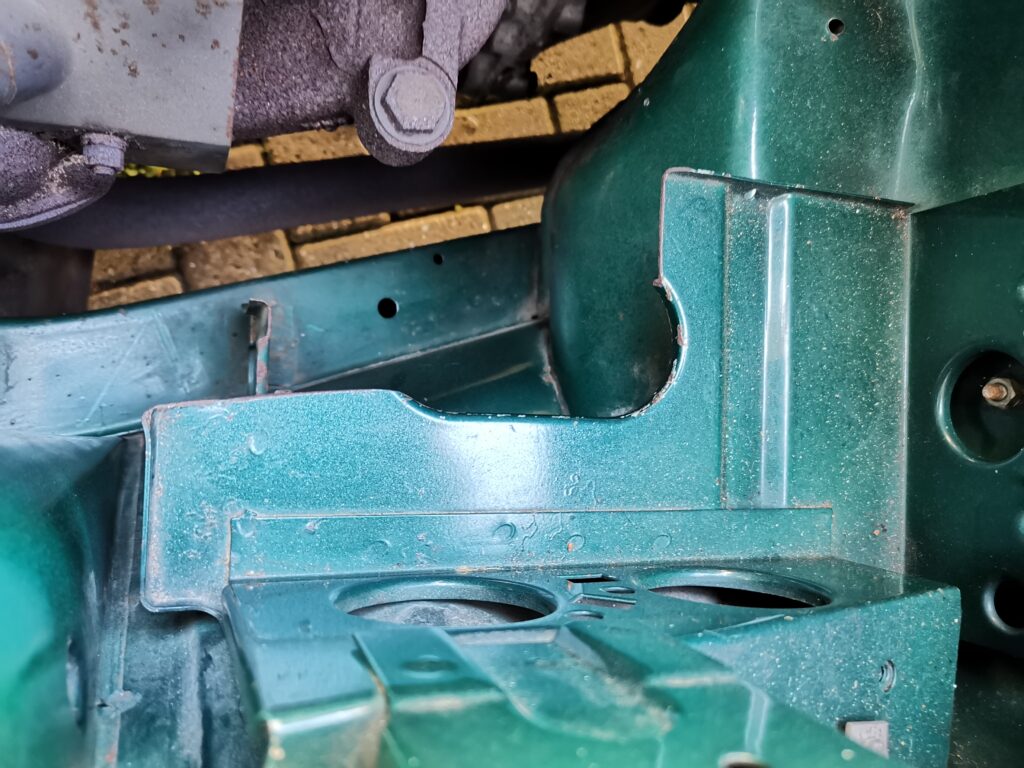 Efi Breather system instead of the normal pipe across to the other carb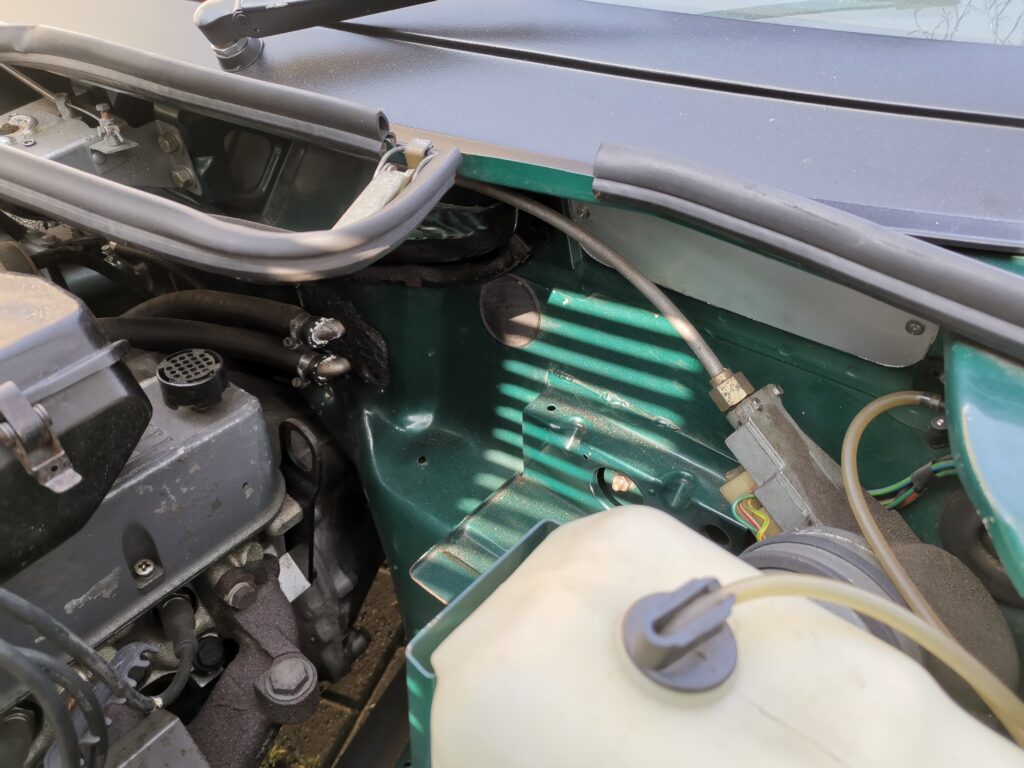 Radiator No 2? Various exp items were tried out on the car.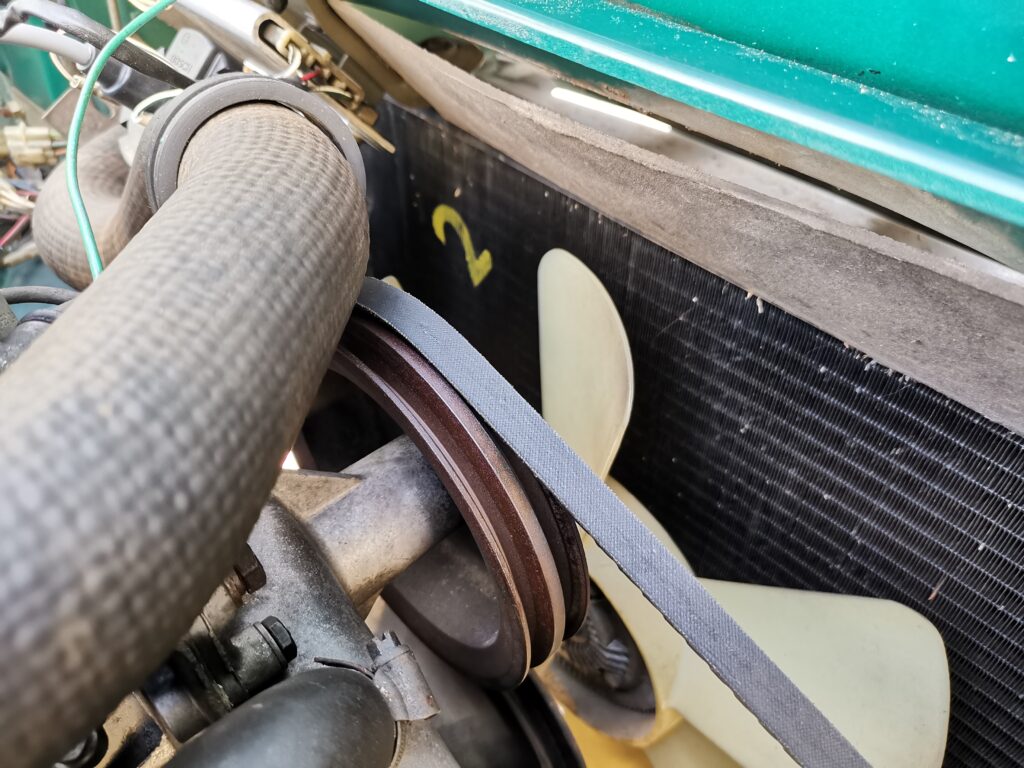 Chassis Plate USA type but fitted in correct UK position with UK RHD Chassis number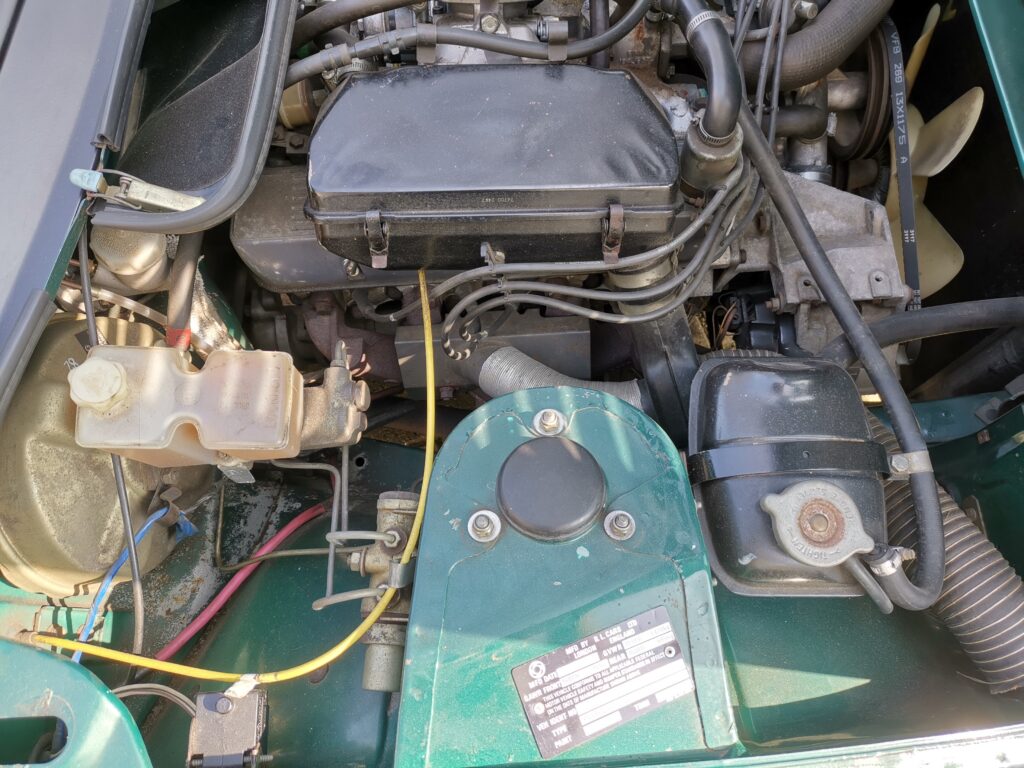 H4 Headlights – Marked Blue logo on light – Inside has a dish element.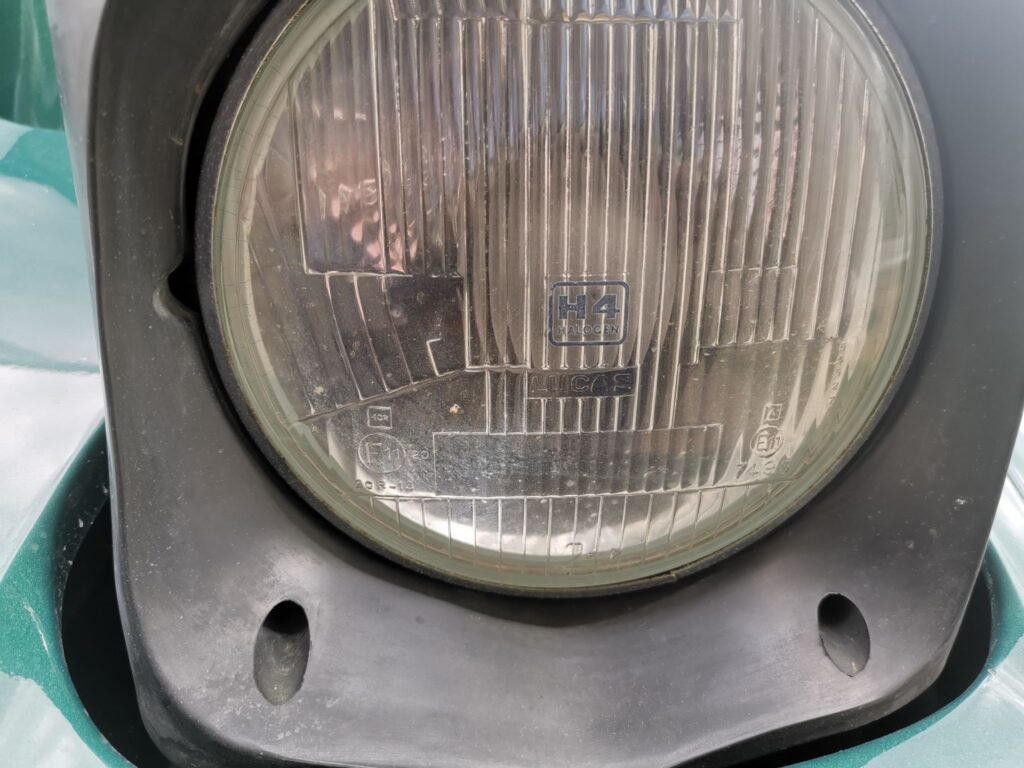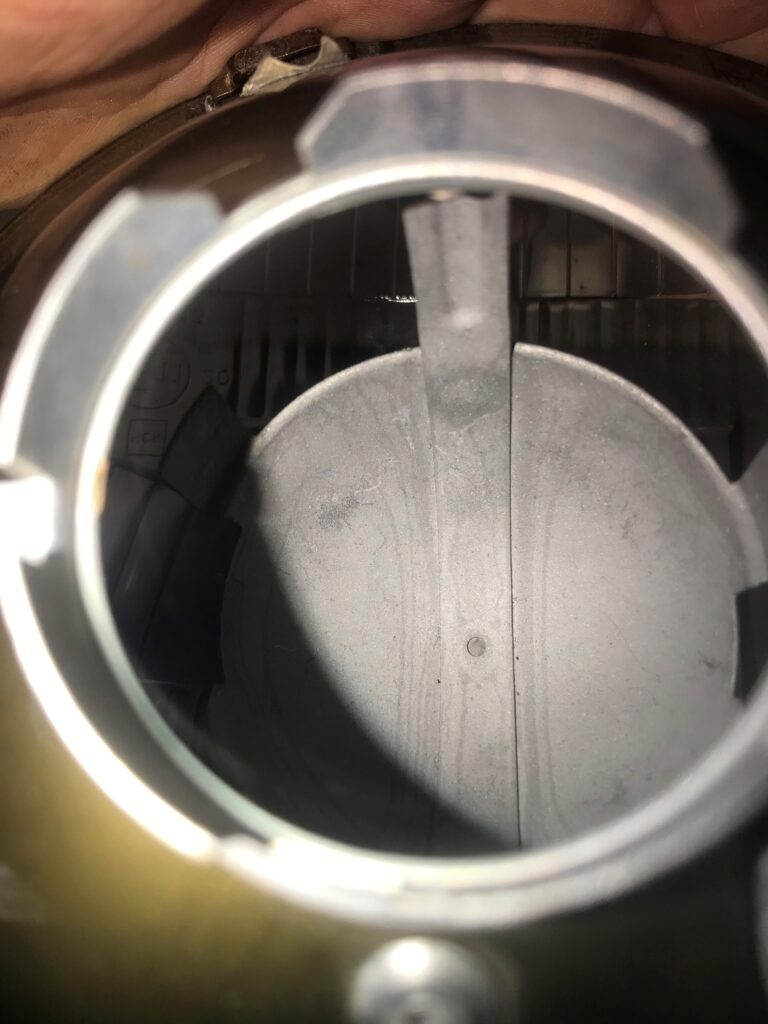 Vented Disk Brakes plus various other suspension modifications
Engine when I got it had a lot of corroded parts and worn pipes along with flaking paint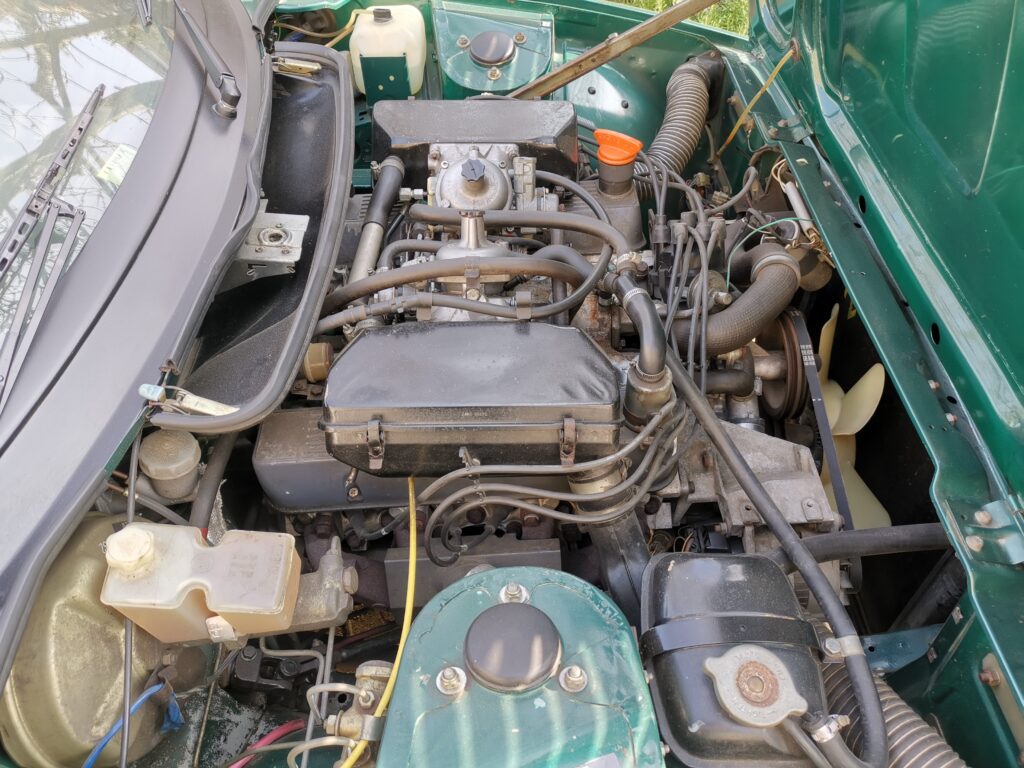 After powder coating and new pipes etc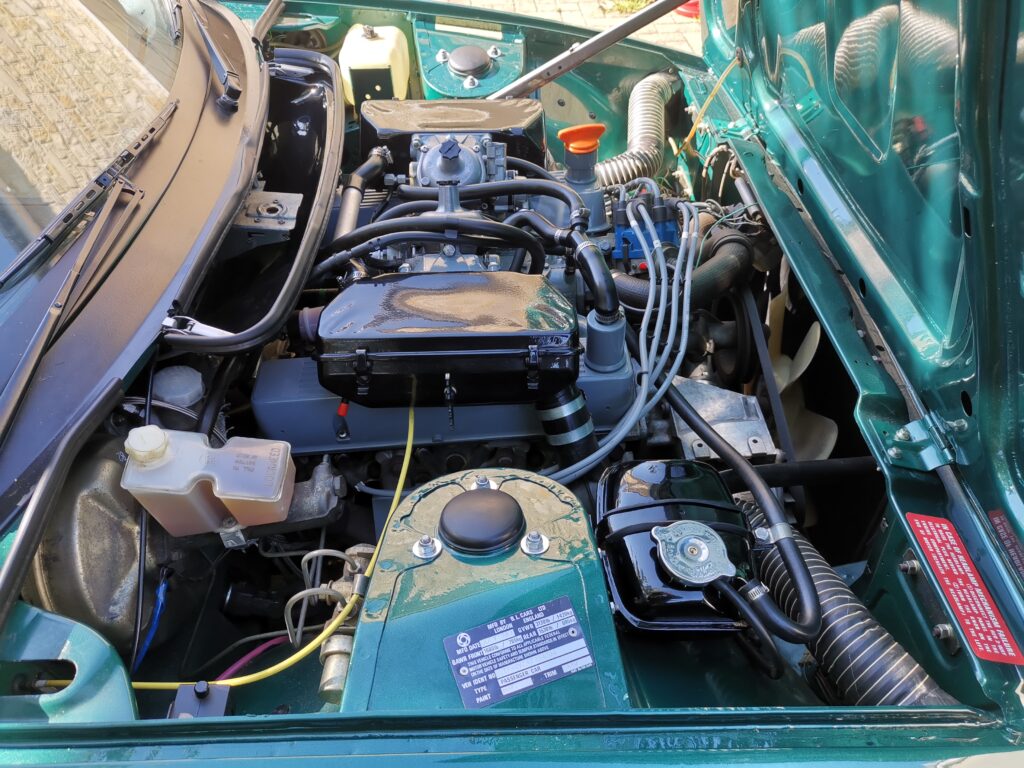 Engine is fitted uniquely with the WL9 BL MOTORSORT CAMSHAFT and appropriate valve spring assemblies.
Former ARG Motorsport Director John Davenport disclosed that the WL9 cam was developed by the Motorsport division and fitted to around twenty of the company's own cars (NWK988W was among these and the only road going TR8 fitted with one) and a few clients' vehicles. ARG's Engineering Division also fitted some WL9 cams to engines for testing as assessment, (Pictures of WL9 are from one of those engines that I was lucky enough to get hold of as a spare) but it was never accepted for full scale production. As it was not a required part of the homologation regulations for the ETCC race cars, it did not need to be fitted to the road-going cars.
The bare figures are 19/57/57/19 = 256 deg period, 435/.430 valve lift with 1.6 rockers. That doesn't tell the whole story, of course, as the secret is in the steep opening and closing ramps. It was the cam homologated for the later racing Vitesse's, but only fitted to about 10 actual production cars. The earlier Group A racing Sd1s were limited to the .390 standard lift, so it is likely that BL actually developed the WL series for the TR8 initially moving to SD1's after the TR8 programme ended.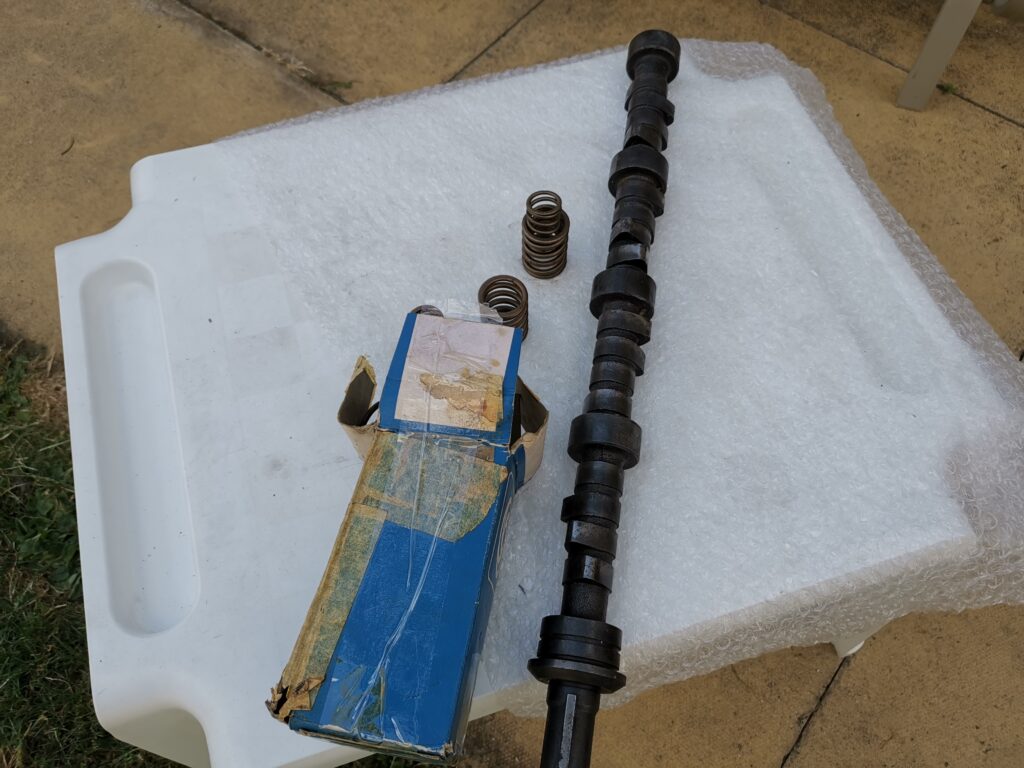 Body plate is the CHP 300 series.
Only used on the RHD HOME MARKET TR8's. this is the lowest in the 300 series known. It is the second RHD TR8 built. Earliest known CHP body number.
SPECIFICATION/PERFORMANCE
Engine 3528cc, V8
Power 217bhp @ 5000rpm
(STD RHD TR8 153bhp @ 5250rpm – minus 63bhp)
Torque 231lb ft @ 4500rpm
(STD

RHD TR8

197lb ft @ 2500rpm – minus 34lb ft)
Top speed 150mph
(STD

RHD TR8 130mph

– minus 20mph)
0-60mph 5.6 seconds
(STD

RHD TR8 8.1 secs

– minus 2.5 secs)
Consumption 22mpg
Gearbox Five-speed manual
Fitted with works BL Motorsport WL9 Camshaft
That for 1980/81 was one a hell of a car, and it isn't slow by today's standards either.
Handling is the best of any TR8 I've ever driven, like it's on rails, and as Gary Owen Triumph Factory Manager at Canley, said in his letter in September 1997 Practical Classis it's a "DREAM DRIVE"
At least this TR8 survived so we now know what might have been. It would/could potentially have been the spec for the 1982 RHD TR8s so it is as such, "The very last specification factory RHD TR8" And what a GREAT note to end on! End of production was announced in the USA on May 14th 1981 with the last cars rolling off the production line in October 1981.
PERFORMANCE CLAIMS NWK988W
In his letter to Practical Classics in September 1997 Garry Owen Manager responsible for the RHD TR8's stated the car achieved 150mph.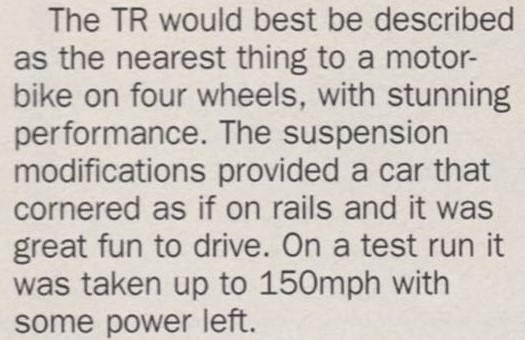 I have in 2022 spoken to Garry personally where he again stated 150mph. Sadly the data from the rolling road test Richard Hurdwell mentioned in his December memo 1980 "The engine will be tested on the rolling road in Jan when it returns to Abingdon with more running-in completed" no longer exists. We do know due to a rolling road test we did early 2023 with the car it reached 217bhp at 5k rpm.
So, as I am unlikely to risk damaging such a unique car getting it to 150mph again after so many years, what do we know for sure is on paper, it is easily doable. Car reaches maximum power of 217bhp at around 5k plus but will rev to 6k.
| | | |
| --- | --- | --- |
| TR8 UK SPEC | 80/81 | |
| Miles 5th Gear | Revs K | MPH |
| 27.6 | 1 | 27.6 |
| | 2 | 55.2 |
| | 3 | 82.8 |
| | 4 | 110.4 |
| | 5 | 138 |
| RED LINE | 5.5 | 151.8 |
| | 6 | 165.6 |
Given the normal engine redlines at 5.5k the maximum theoretically would be 151.8 mph however with this cam we can go to just over 6k. For a standard car much more than 5.5k and the hydraulic lifters run out of oomph and you have to back off the throttle for the engine to run correctly. In effect they pretty much run as a speed limiter, so it's not possible with the standard engine setup/cam. That is borne out by TR8 X923 (USA 13E engine – modified to 9:35?) speed tested at Mira to 130.4mph flying quarter mile (top speed very briefly 137mph) with most likely the same 5th gear ratio. X923 didn't have enough power or revs for more and nor was it likely to have been very stable at its maximum, although it does have the earlier MK1 works spoiler fitted.
Stability
Having driven a modified TR7V8 200 bhp on the Autobahn many years ago on a long straight heading south from Hamburg early one Sunday morning I can attest unless you have a death wish 130mph with the standard spoiler/suspension setup is about the absolute limit. Maybe I could have gone a bit more, but I decided that was more than enough excitement for one day.
A close friend and TR7/8 engineer did take on the Autobahn a modified TR7V8 200bhp plus car that had a high lift cam fitted (allowing revs to 6.5k) along with the later works tarmac MK2 spoiler fitted, and got the needle right round the clock to the P at the bottom of the cloc,.so in theory past 150mph.
Fitting the tarmac or MK2 spoiler RE Richard Hurdwells memo "Wind tunnel testing at MIRA during rally car development indicated that this spoiler should reduce front lift by between 10 and 30%" so you are going to need that fitted or the car will be too unstable at high speed. It is fitted to NWK988W.
NWK988W Engine
Sadly, after so much time we only know the following about the engine from the memo Richard Hurdwell wrote Dec 1980. (Rolling road tested March 2023 to 217bhp)
"1. Compression ratio raised from 8.13:1 to 9.35:1 by fitting current SD1 V8 pistons. (Believed later changed to 9:75:1)
2. Standard camshaft replaced by 'WL9' Motorsport camshaft with valve and spring upgrade assemblies.
3. Zenith-Stromberg carburettor fitted with alternative fuel control needle to suit 'WL9' camshaft."
On talking to Richard Hurdwell about the engine; when he wrote the memo, he only knew the basics of what was done to the engine. More work was likely done he said, he just didn't know what, as all the engine gearbox work etc was completed before he was given the car. Axle ratio could have also been changed to 2.84 for example to give 33 per 1K revs, but in the absence of any proof we will assume not. The 5th gear ratio could have also been changed, but again no proof so we assume not. What we do know however, is that for the run NWK was on different wheels and different high-speed tyres Michelin TRX (metric – first available low-profile tyres).
From Richard Hurdwell Dec 1980 MEMO "From our experience with Michelin TRX tyres these can give improved ride as well as cornering power. The ride properties of the tyre would help to counterbalance any extra harshness from stiffer suspension. The extra handling performance will enhance the car's already high cornering power and make it safer. John Re at Canley has or will have some fabricated wheels to try TRX tyres on a TR7 but they will not fit on the ventilated brake hubs. Michelin are to provide some suitable wheels and tyres in late Jan for test purposes."
They were larger than the standard wheel/tyre approximately 15" to clear the vented disk brakes, and thus changed the ratio that way, increasing actual mph. Average on a selection of available likely TRX tyre sizes on, was between 7 to 9 miles plus over
standard wheels tyres at 140mph. A larger wheel from Michelin was required to clear the vented disk kit fitted to the car as per RH memo. The TRX tyre could only be mounted on TRX wheels and they were conceived to work as a unit from the start, TRX wheels are built in metric sizes instead of inches and the inner shape of the wheel is different than regular J-type imperial wheels. So that is most likely the missing ratio piece of the 150mph puzzle. To achieve 150mph again, the current wheels/tyres would likely need to be changed. NWK currently has 15" with 195/50 fitted. Standard was 13" 185/70.
Conclusion
What we do know is the WL9 cam fitted to the car with valve mods will allow revs 6K plus, so reaching 150mph with the gearbox and 3.08 axle ratio is certainly achievable. More so with larger wheels and tyres increasing the miles per turn over standard. Maximum power we now know after testing on a Rolling road March 2023 is 217bhp so more than enough for such a small light car. It is also believed the car actually has 9:75:1 pistons fitted probably done at the same time as WL9 cam.
With increased stability due to the Richard Hurdwell handling package and tarmac spoiler fitted, the car is more than stable enough to hit 150mph.
TR8 X923 very briefly reached 137mph with a much less powerful engine (minus 63 bhp) and no WL9 CAM fitted for higher revs. So could NWK988W with considerably more power and higher revs get the extra 13mph over X923. BL Engineering dept put X923's engine together and BL Motorsport Abingdon put NWK988W's engine together; so, Abingdon's version would also have a lot more inherent performance knowhow engineered into the car than BL. With a road long enough a 150mph maximum speed for NWK988W is correct. The fact it was said with "some power left" seemed a tad optimistic at first, unless of course the ratio was changed in some way as well, and that was the case at the time with larger wheels and tyres.
Going forward
June 10th 2022 Gaydon. Richard Hurdwell (Suspension Engineer on the car) turned up to look his old car over again and close a chapter for him. It was a privilege to take him for a drive in the car.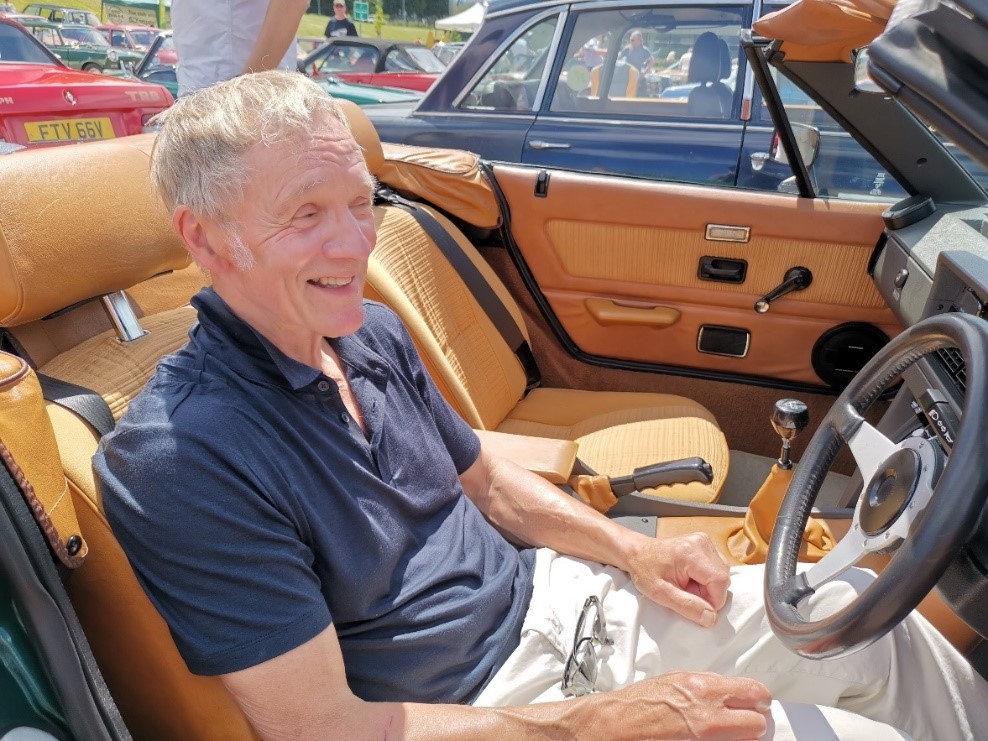 August 20th 2022 TR Register Event Derby – NWK988W won the survivor's cup.
November 13th 2022 TR Register stand NEC Birmingham Classic Car Show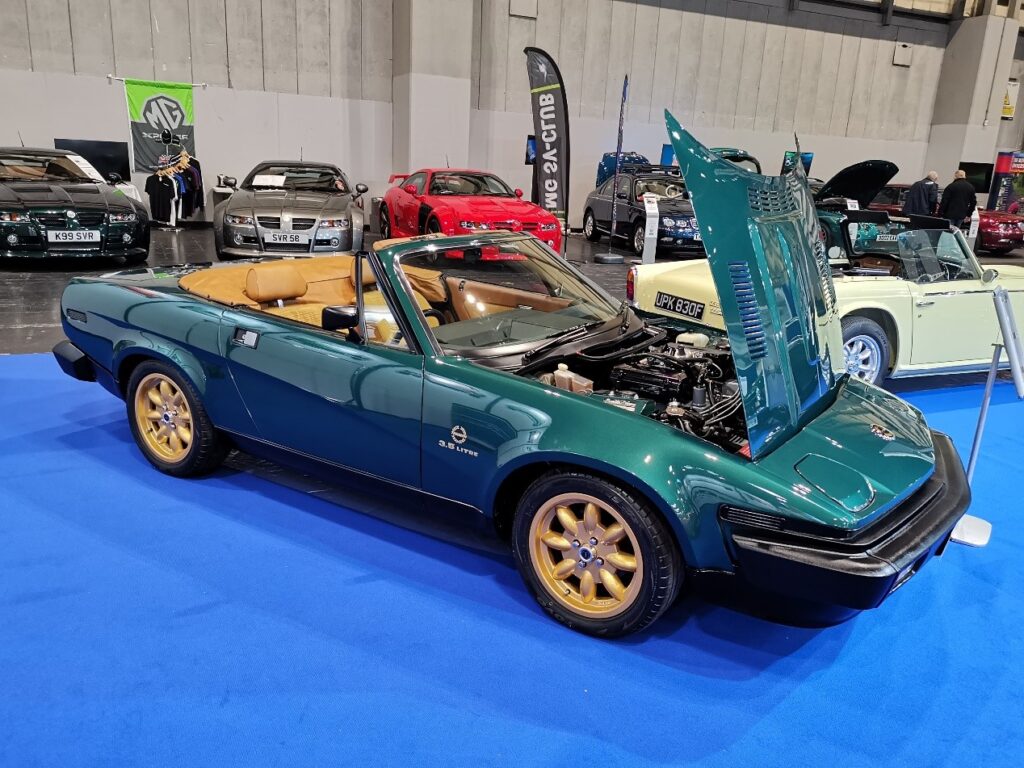 November 13th 2022 TR Register stand Richard Hurdwell for his second visit of the year.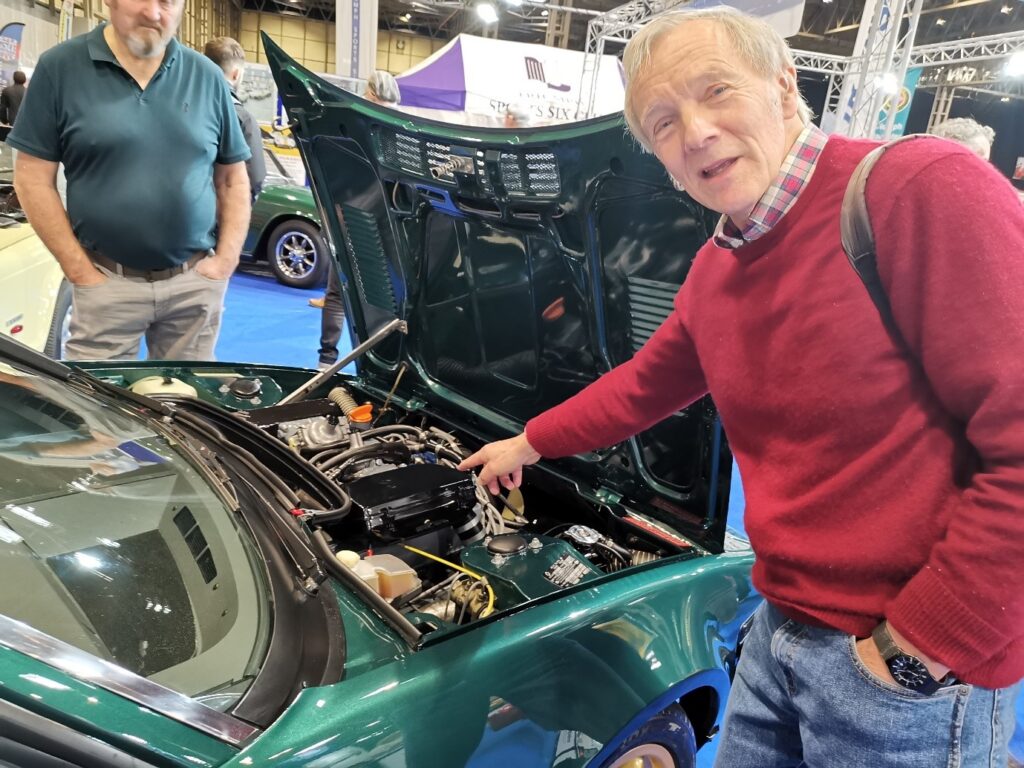 NWK988W further tuning 2023
When the car arrived the maximum speed, it would do was 70mph then it ran out of fuel! So, I send the carbs away to be completely rebuilt. There were many, many faults, auto chokes blocked up, floats in upside down, SU needles fitted and soldered up, to name just the main ones.
So for 2022 just getting the car running was the priority. There was unfortunately no refence to what needles the factory used,
"Zenith-Stromberg carburettor fitted with alternative fuel control needle to suit 'WL9' camshaft"
so, to start we had no choice than to put the standard North American TR8 ones in which are B1EM and for 2022 it ran fine for what I needed it to do. Getting the car back to how it ran when the factory had it was always the priority for 2023 so a richer needle B1BF often used in the Stag was fitted and the car was taken to Dave Boggs rolling road in North Yorkshire to see where we were.
Not enough fuel; at higher rev's speeds and problems with the butterfly valves in the throttle flaps. Having said that it was much quicker than it had been on the drive home.
Butterfly valves removed and replaced with TR4 throttle flaps (no valves – seen in the plastic bag) and the richest needle Stromberg still make B24081was fitted and a return to Dave Boggs for the end of March 2023.
This time we got what we were looking for and quite a bit more than I had thought we were going to get – 217bhp.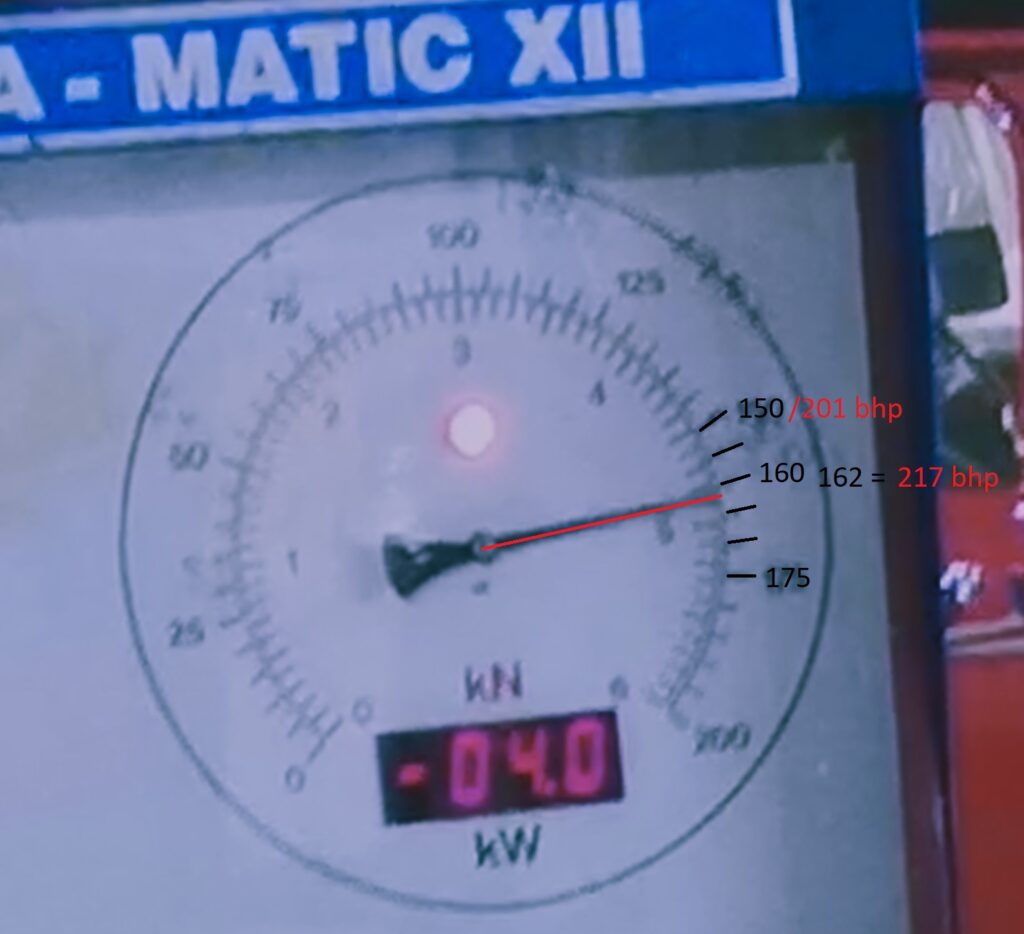 It was noted the curve on the distributor needs changing and that is now in hand April 2023, which may yet gain a little more power and certainly smoother driving.