TR8 Clubs
These are some of the better known TR8 friendly clubs around the world, that are well worth joining if you have a TR8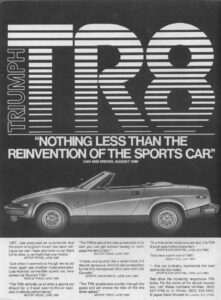 World Wide TR7 TR8 Owners Club (TR7 & TR8)
We have information on almost everything to do with the TR7 & TR8 from early factory and rally TR7V8 documents to how to fix almost anything! We also are very proud of the most comprehensive collection of video footage of these cars you will find anywhere.
Web site is HERE
Triumph Wedge Owners Association (TR7 & TR8)
The Triumph Wedge Owners Association (TWOA) is the largest club in the world for owners of "The Shape of Things to Come", the Triumph TR7 and the Triumph TR8, built from 1975 – 1982. Our members and their cars reside throughout the world, including North America, the United Kingdom, Europe, and Australia.
Web site is HERE
TR Register (TR2 – TR8)
Founded in 1970, The Triumph TR Register Car Club is one of the most successful one make car clubs in the world. The Triumph TR Register Car Club caters for t he needs of owners, past present and future of the entire range of Triumph TR sports cars from TR2 to TR8 and their associated derivatives Swallow Doretti, Peerless, Warwick, Italia and Grinnall.
Web site is HERE
Club Triumph (All Triumph's)
Founded in 1954, Club Triumph is the original club for all Triumphs, run entirely by its members for its members. If you want to get out and drive your TR8 this is the one to belong to. Of particular note is the Round Britain Reliability Run which for many years had Triumph Factory support
Web site is HERE
TR DRIVERS CLUB (TR2 – TR8)
This club caters for all enthusiasts of the Triumph TR Sports car range, from TR2 to TR8. We have a large and active membership spread across the United Kingdom and beyond. It is run on a voluntary basis, by true enthusiasts…who live, breathe and eat TRs!
Web site is HERE
The first two are more internet based and as such are very much TR8 Clubs. The next two are for the whole range with the TR8 very welcome